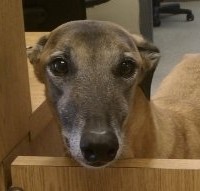 Resident Greyhound, Blood Donor
Alpine has been a member of our team since 2008.  Until Dr. Brown acquired him when he was 3 years old, he spent a lot of his time on the racetrack in Shorter, Alabama.  Needless to say, he likes being "retired" from the racing life and has been helping his fellow dog in need by contributing to their treatment by blood donation if necessary.
*4/2018-Alpine has since retired from veterinary medicine and currently lives in Savannah, Georgia where he is enjoying short walks and lounging in the pool when it is hot.